UFC 113 is fast approaching and with it the rematch of the year ! (Sorry Henderson vs. Cerrone) The question is whether either fighter learned enough about his opponent to change the dynamic of this fight. In this case I believe Shogun will have the advantage, Machida has long relied upon being an unpredictable and an unorthodox fighter but once he became the champ everyone in the 205lb class had to take notice and, of course, decide how they would slay the dragon. I'm not saying this is an easy task but if Rua can apply the same discipline and patience he did the first time around I believe he will be succesful and claim the belt for his own. I'm going Rua via TKO in the 4th.


The next fight, with serious implications in the 170lb division, is Josh Koscheck vs. Paul Daley. It's awfully tough to bet against Josh Koscheck as he has looked very good in his last couple outings including a Fight of the Night/Submission of the Night performance against a very tough opponent in Anthony Johnson. Kos wants the title shot badly, unfortunately it's this desire to prove he has the ability to have exciting fights that I believe will tempt him to stand with Daley and will result in a Daley victory by KO in the 1st.

Stout vs. Stephens has Fight of the Night written all over it. You've got Stout who is coming off one of the best fights of 2010 when he defeated a very game Joe Lauzon by decision to win FOTN honors for the astounding fourth time in his career, match that up with Stephens who is coming off a KO of the Night performance against Justin Buchholz and you've got potential for some serious fireworks. While Stephens is capable of delivering a KO at any time, I don't think he will be able to hang with an ever improving Stout. Stout via decision.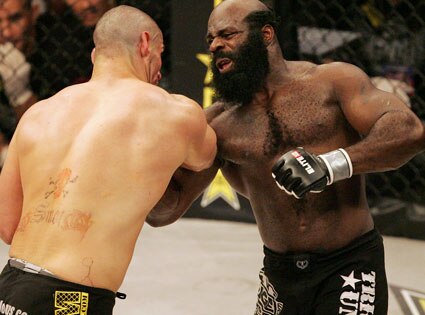 Technically the next fight on the card is Kimbo Slice vs. Matt Mitrione and as much as I'm sure both of these fighters are improving I'm going to keep this one short and sweet in order to allow myself some space for fight five. Slice by KO Rd. 1.


The final fight of the main card is shaping up to be an exciting battle. On one hand you've got the return of Patrick "The Predator" Cote who, lest we forget, was on a five fight win streak prior to injuring himself in his bout with Anderson Silva. On the other side is Alan "The Talent" Belcher who, oddly, has fought 3 of his last 6 fights against Canadians posting a 2-1 record. Although Belcher has proven to be a tough and exciting fighter (2 Fight of the Night awards in a row) I believe he is simply outclassed by Cote who will be looking to reestablish himself near the top of the middleweight division starting with Belcher. I'll go Cote by TKO in the second.


From my perspective I'm very excited to see 6 canadians on the card. This is what's great about the UFC travelling to these canadian venues, it gives the chance for canadian fighters to get their names back out there, in the case of Tim Hague and Jason MacDonald maybe this is a chance to get themselves back on the UFC roster permanently. For the UFC this is a chance to put the Silva/Maia debacle behind them, with the fighters on this card I'm convinced that there will be adequate fireworks to do just that.